De Groene Gaper – Coffeeshop in Hoofddorp
We, De Groene Gaper are a relatively new coffeeshop and are located in Hoofddorp. We are one of the nearest coffeeshops at Schiphol and are at an easily accessible location near both Amsterdam and Haarlem.
Opening
On November 14, 2015, we opened our doors for the first time, and we've been doing our best to provide a pleasant and safe environment where cannabis users can get and use their products.
We have a wide range of weed and hash varieties, and also offer pre-rolled joints.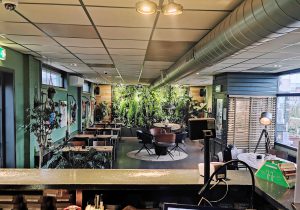 Certification
All our employees are SVCK certified. So if you have product, medical or general cannabis questions, don't hesitate and just drop by. Our employees are always ready to answer your questions.
Design coffeeshop
Our shop consists of a bar with 7 seats and a seating area that can accommodate about 50 people. Everyone aged 18+ is welcome, and can come in and enjoy delicious weed and a tasty cappuccino. Of course we also serve other hot and cold drinks, and only take-away is also possible.
Our entire store is tobacco free. Smoking pure joints is allowed. We also offer a variety of smoking accessories and vaporizers.
Social aspect
The interior of our shop focuses on the social aspect of the coffeeshop. We have deliberately chosen not to display screens in the shop, to motivate people to have a nice conversation with each other. We have vaporizers on different tables to vaporize weed, and also offer a variety of board games.
Several 1 or 2 person tables
We also have room for people who prefer to retreat to relax. We have several 1 or 2 person tables, and also have a reading corner with different magazines.
People who prefer to use a screen are of course free to bring one themselves. We have super fast WiFi, and are gamer friendly!